you need Find and filter email messages in Outlook? These are two things that are very easy to do and very useful if you use this Microsoft tool to manage your email from your computer, so you'll have the emails you'll find at some point handy.
Especially if you have an Outlook account and you have emails properly categorized in many folders, it is possible that when you search for an email you may have problems finding a specific email, sometimes it takes a long time and you don't always get results.
For this There is a mail search enginewhich can help you find that or those emails more quickly, in addition, you can filter based on some parameters to quickly find some specific information that contains some important information, eg.
In Outlook for PC and the web
This is what you should do if you want Find and filter email messages in Outlook if you're using the Windows app or website:
Open the app and focus your attention on the search engine at the top, now put in the word you want to find email for, for example, "delivery" to see if Outlook returns email results containing that word.
Before clicking on the magnifying glass, choose the folder where you want to search for this email, it's best Choose "All Folders" Because you probably don't know where those emails are, so you will search your entire account.
finally, Press the "Enter" key on your keyboard or the magnifying glass icon And the results will start coming in, it's a matter of opening one by one to see which one you were looking for.
Now, if what you want is to filter by more specific parameters when searching, You have to click on the three horizontal lines icon that appears to the left of the magnifying glass, there you can better filter your search to search by keyword, on specific dates, by specific topic, with a specific CC, etc. When you have it, click on "Search" and that's it.

Through the Outlook application
If you are using a file outlook appYou should know that searching and filtering emails is allowed. With that in mind, you should follow these steps:
Open the app on your phone and tap on the magnifying glass icon.
Next, put something related to the email you want to search for and Check the "Mail" section. So it just searches for results in your email account and finally click on "Search".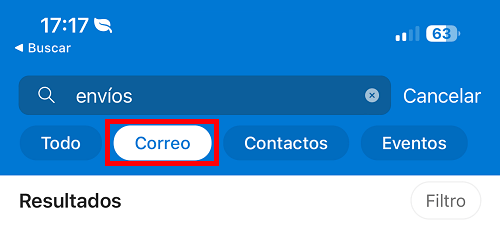 now Click on the word "Filter".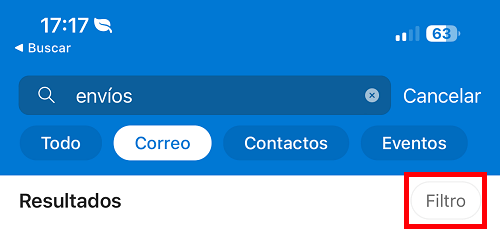 now Apply the filters that you deem necessaryYou can choose whether to search a specific folder in your mail, whether it should contain attachments or even include deleted items.
When you have a filter configured Click "Apply"Results should appear immediately or it may take a few seconds if the filter is more specific, although this will happen in the case of a large number of emails.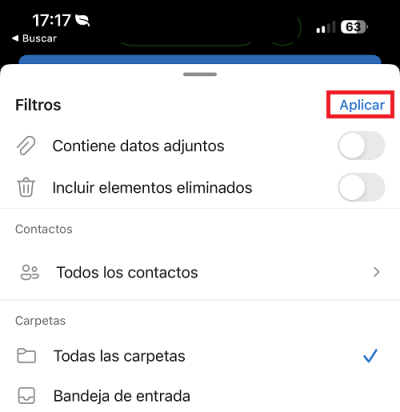 he The primary choice that you have to deal with From this tool to manage emails and much more like creating signatures in Outlook if your account is more professional you should add one to make your emails more professional.
You will be able to see that in no time Search email messages in Outlook You can filter by different parameters so that your search is more specific if it doesn't return more general search results, although you must have data about the email in question to filter like this.
How to recover spam in Hotmail / Outlook