The emergence of artificial intelligence (AI) based technologies as well as the rapid digitization of societies and economies around the world due to the pandemic has highlighted the urgent need to discuss the opportunities and challenges posed by AI. The responses that must be given by politics to face this new reality.
In this context, the Undersecretary of the Ministry of Science, Technology and Innovation Policies of Argentina, Cecilia Suliman, participated in the round table "Artificial Intelligence: Public Policy Imperative for the Americas" held by the Organization of American States (OAS) and the National Academy of Sciences. United States in the city of Washington, D.C
Opening the meeting, OAS Secretary General Luis Almagro highlighted the importance of dialogue on "the impact of artificial intelligence on our societies and how to best prepare ourselves to respond to the emergency of this technology." It has already affected the four pillars of the institution: development, democracy, human rights and security. . In this regard, he stated that there is an economic and social divide in the Americas, but that "learning and collaboration are essential" for governments and societies to define an effective governance framework for developing fair, ethical, and safe AI that allows countries to reap the productivity and innovation benefits offered by these technologies while managing risks and preventing potential harm.
There has been a lot of discussion about the initiatives that have recently emerged in different parts of the world to address the implications of artificial intelligence. Among them, we can mention Italy's temporary ban on the use of Chat GPT, a publication by the US National Institute of Science and Technology on risk management for companies using, designing or implementing artificial intelligence systems. , or invite experts in Chile to review the potential effects of Chat GPT. In this sense, Jamaica's Minister of Science, Energy and Technology, Daryl Vaz, emphasized that "we should not ban or limit AI but rather look for a way to coexist with AI."
Artificial intelligence can become an essential tool for the region's growth, providing solutions to global challenges, and protecting democratic values. Without sufficient safeguards, AI is also a great risk, said Ambassador Francisco Mora, Permanent Representative to the Organization of American States in the United States who served as director of the commission. In this sense, Dewey Mordick, director of the Center for Security and Emerging Technologies at Georgetown University, has focused on education and creating a culture of artificial intelligence in the population so that "democracies can, through their people, decide what is acceptable and what is not acceptable in its use."
For his part, Lindsey Gorman of the German Marshall Fund's Securing Democracy Coalition raised a triple dichotomy for the future of democracy and national security: the question of opportunity versus risk, the difference between organization and creativity, and the application of what exists. Laws and/or the need to create new laws.
"We produce tools that people can use to improve their lives. However, there are those who use tools of evil. There are states and criminal organizations that do not share our values. We have laws to protect us from criminal law enforcement and we also have to take advantage of the relationships between Governments to improve the situation." In a similar vein, Meta's Evelyn Miller stated that "Proactive regulation of AI is necessary given that it is a proto-technology and where there is innovation and technology we can also have potential harm."
The Regional Agenda for Digital Transformation adopted by hemispheric leaders at the Summit of the Americas in June 2022 outlines member states' commitment to "the responsible and ethical development and use of artificial intelligence and other technologies while protecting privacy and personal data, fairness and respect for people's human rights and their inclusive growth." In this regard, Suleiman said that "developing countries should set standards and agreements about what we want and don't want from this technology" to analyze its impact on employment and education, among other areas. In this sense, the Undersecretary referred to the negotiations that the Argentine Science and Economics portfolio is conducting with the Inter-American Development Bank for a loan of 35 million US dollars aimed at developing policies to promote artificial intelligence to promote Argentine exports with high added value.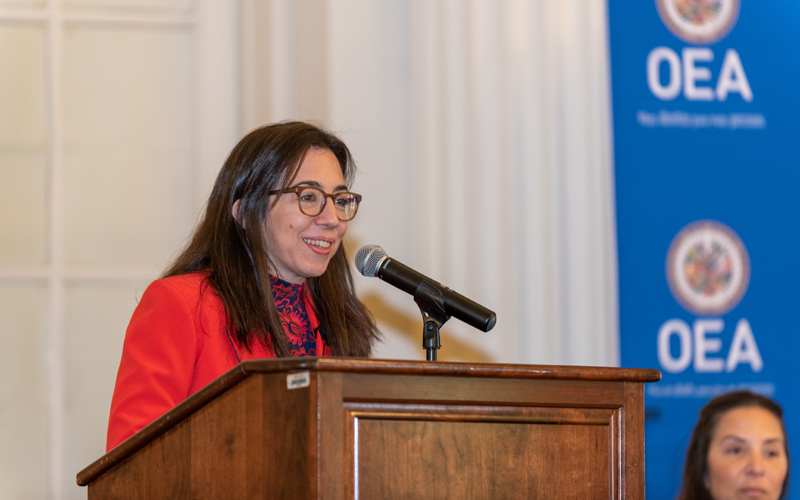 The event was attended by politicians, academics, diplomats and members of the scientific community and can be watched live on the OAS YouTube channel.
Bilateral and multilateral cooperation in the field of artificial intelligence
As part of her mission to Washington, D.C., Under Secretary Suleiman had a meeting at the Argentine Embassy with Ilham Tabasi, chief of staff for the National Institute of Standards and Technology (NIST) and expert on AI issues, and with Sam Scofield. Adviser to the US Department of Commerce with the aim of organizing a joint seminar on artificial intelligence. They also discussed the recently published National Strategy for Emerging Technologies.
Likewise, the official participated in the tenth regular meeting of the Inter-American Commission on Science and Technology, in which she presented the main national challenges related to artificial intelligence and cross-sectional technologies included in the National Plan for Science, Technology and Innovation 2030, and the Arph.ai project, which aims to develop technological tools based on artificial intelligence. and data science to predict and prevent outbreaks.
During the Committee meeting, ideas and good practices were also shared on topics of concern and priorities identified by Member States and reflected in the Jamaica Declaration and Plan of Action, among others: Youth, Technological Foresight as an Input for Policy Decisions, National Quality Infrastructure and Transformative Technologies, Communication Initiatives and Engineering in the Americas.