After working a job for 14 days in Canada, Obokata described the temporary foreign worker program as a "work program." Fertile ground for contemporary forms of slavery.
I am concerned about the fact that many migrant workers are being exploited and abused in this country. Agricultural flows and the low-wage flows of the Temporary Foreign Worker Program constitute fertile ground for contemporary forms of slavery.
The rapporteur stressed that Canada's temporary foreign worker program creates an unequal relationship between employers and employees.
These comments echo those of Jamaican migrant workers who, in an open letter to their country's Ministry of Labor last month, described their working conditions in Ontario as… Systematic slavery.
The role of Special Rapporteur was created by the United Nations in 2007. His mandate includes investigating and defending populations in cases of forced or compulsory labour.
Migrant workers risk deportation if they lose their work permits, which also prevents them from changing employers if they face abusive situations, Obokata said.
This creates a dependency relationship between employers and employees, making the latter vulnerable to exploitation.He added that many workers cannot report violations because they fear losing their work permits.
Thousands of workers come to Canada each year to work in the program. Statistics Canada estimates that temporary foreign workers make up 15 per cent of the country's agricultural workforce.
The program ended up under scrutiny during the pandemic. Auditor General Karen Hogan reported in 2021 that the federal government has not done enough to ensure that these workers receive appropriate protections.
Obokata said he spoke to many migrant workers who described having to work long hours without receiving overtime pay, being denied access to medical care and being forced to live in overcrowded and unsanitary conditions.
The UN rapporteur called on the Canadian government to provide all temporary foreign workers with long-term work periods, grant them permits that allow them to change employers freely, and establish a path to permanent residence.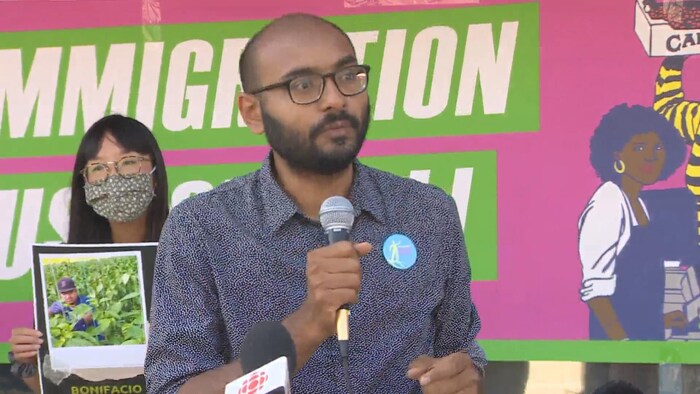 The situation is not new
Syed Hussain, executive director of the Migrant Workers Alliance for Change, said Obokata's findings were not new.
You repeat and say what we have been saying for a long time… Migrant workers in this country are exploited and permanent resident status is the key to ensuring that they have equal rights.
Ottawa launched and then expanded a pilot program that opens the way to permanent residence, intended for a few thousand agricultural workers each year.
Hossan said he hopes Obokata's findings will prompt the government to implement a permanent program for all temporary foreign workers.
I think if the UN rapporteur is "upset" with the situation, it is a message to the federal government that they are doing something very wrong and that they need to change the situation and guarantee the situation for everyone.He said.
Asked if the government would consider creating a permanent path for all temporary workers to permanent resident status, Immigration Minister Mark Miller's office referred the case to Immigration, Refugees and Citizenship Canada.
A spokesman for that ministry did not say whether a permanent program was in the works, pointing instead to other avenues, such as the pilot program for agricultural workers.
Source: CBC / Dr. Major
Adaptation: RCI/R. Valencia