Three and a half years. This is how long it took for Spain to recover its pre-pandemic GDP level. The national economy suffered The biggest recession in the rich world In 2020, with GDP falling by 11.3%, it only recovered from the blow in the second quarter of this year, when it finally reached the level of wealth found at the end of 2019, according to IMF estimates. The latest data from the Organization for Economic Co-operation and Development.
Therefore, Spain experienced one of the weakest and slowest recovery periods in the group of developed countries. Specifically, it displays Fourth worst performing economy in the Organization for Economic Co-operation and Developmentwith only one Cumulative growth of 0.4% after Covid-19Germany follows with an increase of 0.2%, while the UK (-0.2%) and the Czech Republic (-1.1%) are the only countries that have not yet recovered from the pre-pandemic level.
the The euro area is growing at a rate of 2.7%. Since the fourth quarter of 2019 and OECD 5.1%. Ireland leads the recovery of the rich world, with cumulative growth exceeding 30%, followed by Israel (17%), Costa Rica (11%), and Colombia (11%). For its part, the United States achieved a growth of more than 6% and Portugal by 4%, while Italy and France recorded growth of about 2%. In any case, the progress is several times the minimum growth that Spain has recorded since the end of 2019.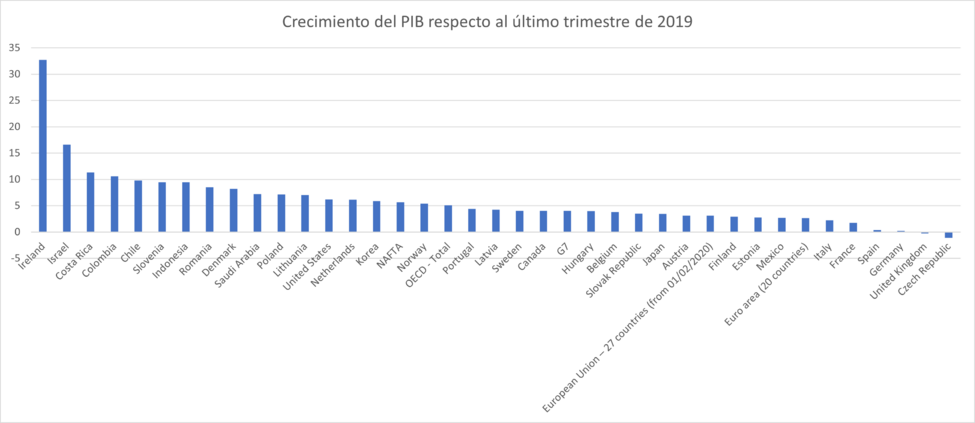 On the other hand it is The OECD's gross domestic product increased by 0.4% on a quarterly basis between April and June, less than a tenth of what it was in the first quarter. Specifically, GDP accelerated in Japan to 1.5%, from 0.9% between January and March, and in France to 0.5% from 0.1%, while activity in the US and UK accelerated to 0.6% and 0.2%. respectively of 0.6%. Expansion of 0.5% and 0.1% in the first quarter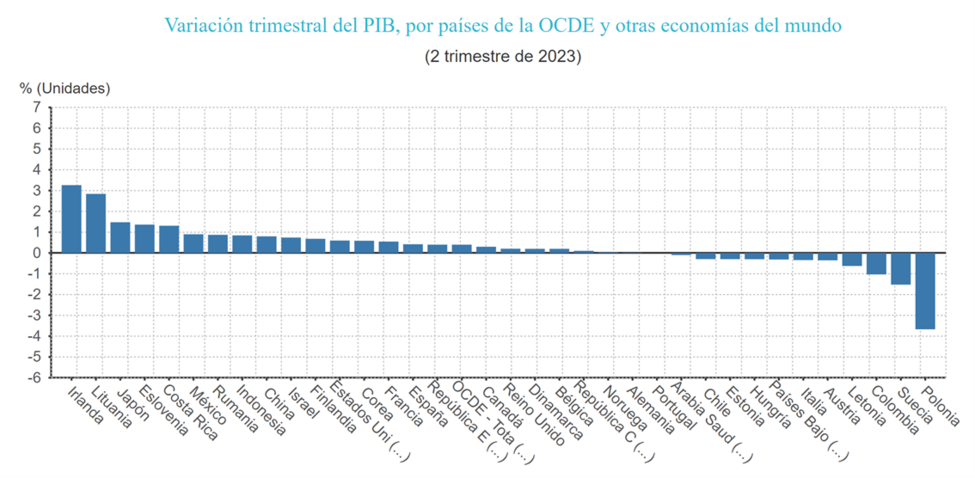 also, Germany's GDP stagnated in the second quarter After declining 0.1% in the previous three months, while the Italian economy contracted 0.3% in the second quarter, compared to a growth of 0.6% in the first three months, and in Canada it moderated to 0.3% from 0.8%. In the Eurozone as a whole, the economy accelerated by 0.3% from 0% in the first quarter. And In the case of Spain, growth eased to 0.4%. From the previous 0.5%.