An ideal place to retire or start a business, the municipality of San Juan del Sur, located on the Pacific coast 140 km south of Managua and close to the border with Costa Rica, is the country's main tourist pole, with a picturesque bay and beautiful beaches.
"I like the Nicaraguan lifestyle in general," says American Christina Alti, who 10 years ago came on a month-long vacation attracted by surfing and now works in real estate.
Amidst international condemnation of President Daniel Ortega for his authoritarian role and questioning his re-election since 2007, foreigners live content in this peaceful area that offers beaches, restaurants, bars, whale watching, walks and scenery.
Many foreigners have "transferred" their lives, including telecommuting, to colorful establishments and small beach houses. (AFP)
"There are a lot of options here for people who love the outdoor lifestyle," adds Alty, 37, a mother of two who attends a bilingual school in the city of roughly 17,000.
He adds: "My clients are probably from all over the world. Many of them are American or Canadian, and they also have a different lifestyle (…). The pace of life here is much slower than where they come from."
As Alty walks along the beach, some tourists rest on chairs, while others lie on the sand, play sports, or enjoy a swim in the sea.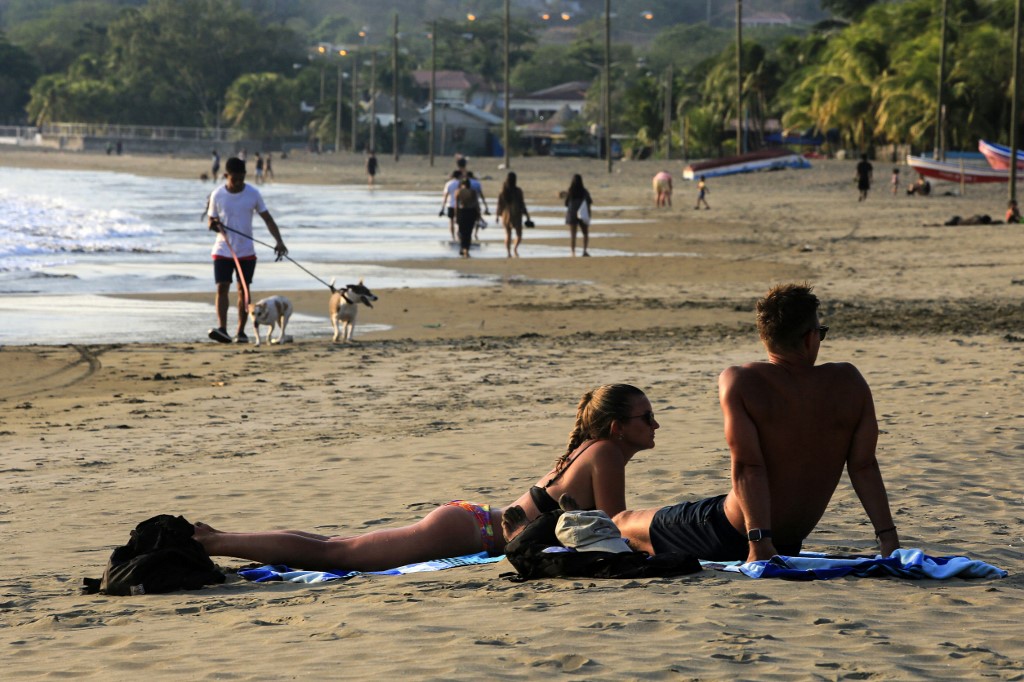 "playing in the street"
Foreigners educate their children in two bilingual schools that integrate formal classroom instruction with natural open spaces.
"We're in a very natural environment, we're four kilometers from the center of San Juan del Sur, we're around mango, almond and jucote trees," Jaime Lynn Hunter, director of the Adelante American School, told AFP.
"And I think parents like having their kids here because they don't feel confined, they have enough space to stretch out and run around and be kids," adds the 38-year-old teacher, who has lived here for 13 years.
This school, which has 170 pre-school and primary students, was born in 2016 to teach English to children in the region with the support of US NGOs and Japan Cooperation.
Students, 30% of whom are foreigners, attend classes for eight hours and receive instruction according to the program of the Nicaraguan Ministry of Education, one week in Spanish and the other in English.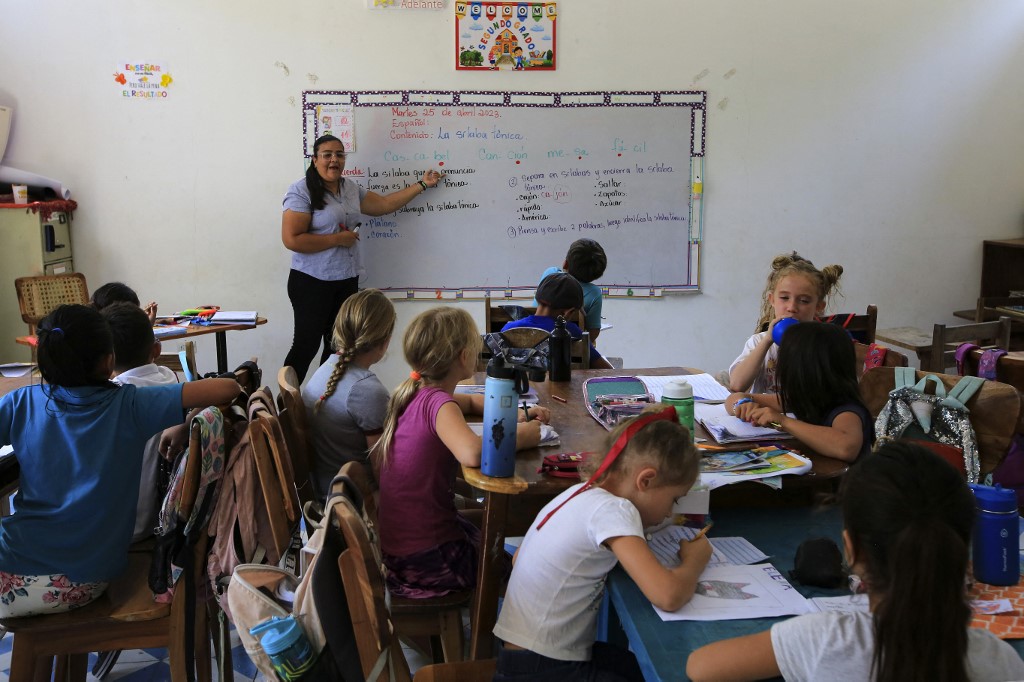 A teacher leading a class for national and foreign children at the Adelante Bilingual School. Photo from April 25, 2023 (AFP)
"We're glad our children are safe here and can study in an environment like outside, not with gates and closed doors, and not have to fear more dangerous things like gunfire, which we see so much today," Hunter says in Americans in schools.
She came to work as an English teacher in 2010, fell in love with a Nicaraguan, married him, and had two children who grew up in contact with nature.
"What I love here is that they still play in the street, they still go to the park; I think kids here are still more than kids and it makes me think as a kid, I'd go out to play until it was dark," she writes.
The other bilingual school, San Juan del Sur Day School, has 175 students, 43% of whom are from 17 countries: the United States, Canada, the United Kingdom, Ireland, Austria, France, Belgium, Italy, Germany, Spain, Russia, and Costa Rica, among others.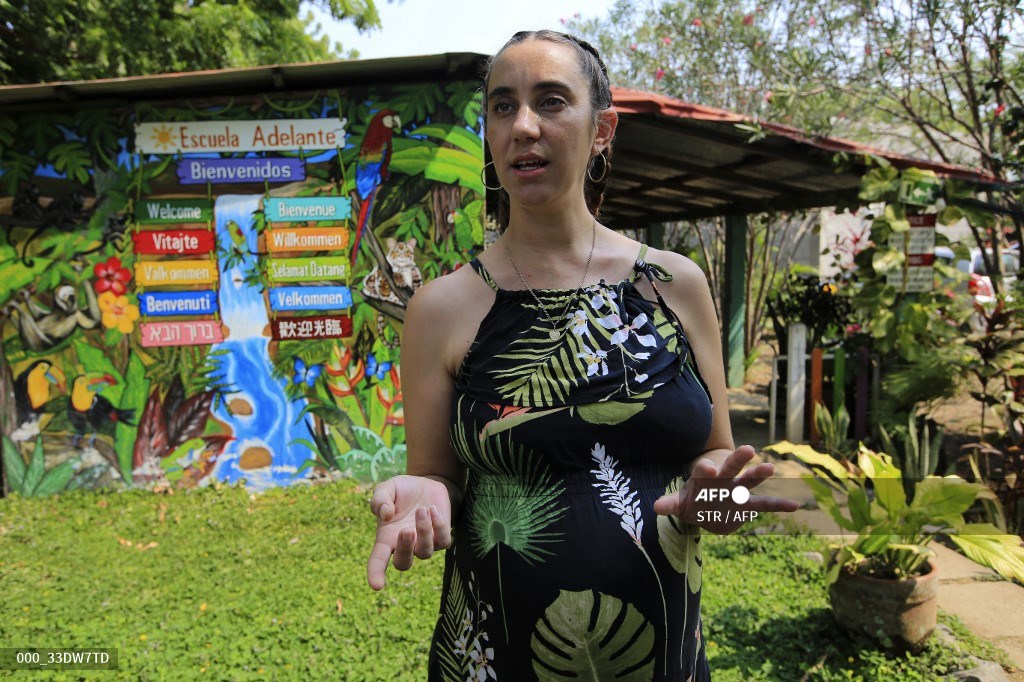 Jamie Lynn Hunter, CEO of Adelante Bilingual School, came to teach English in 2010, and fell in love with Nicaragua as well as the city. Today, the family is completed by the couple's two children, who were born in Nicaragua. (AFP)

"perfect weather"
About 30 cruise ships from the United States, Canada and Europe dock each year in the port of San Juan del Sur, according to the Tourism Institute.
In the middle of the nineteenth century, this city was part of the way of Americans who, attracted by the gold rush, traveled from the east coast of their country to California. Others have done so through Panama.
Thousands of Americans traveled by boat to the Caribbean coast of Nicaragua and after going up the San Juan River and Lake Cochipulca, arrived at San Juan del Sur to embark on San Francisco.
One of them was the writer Mark Twain, who shared a monument in the city square with the Nicaraguan poet Rubén Darío.
"I love the coastal cities, and I also love the ocean very much," British tourist Mark Gittler told AFP. "Here everything is nice and cheap and the people are nice."
"I love surfing and there are many beaches nearby […]. It's a very beautiful country, the weather is great, I love the people, I love the ocean, I mean, what more could I ask for? "