NEWPORT, Rhode Island (USA) – From August 15-19, senior non-commissioned officers from the Naval Training and Recruitment Command participated in the first educational exchange, which took place at the Naval Academy in Newport, Rhode Island.
The invitation was issued for senior officers from the US Department of Defense (USA) in coordination with the Southern Naval Force Command and the Fourth Fleet of the US Navy, through the Chief of the Fourth Ship. Fleet Chief Petty Officer Robert Florentino.
The meeting is framed in the context of international military cooperation that seeks to strengthen relationships that ensure interoperability between the navies of participating nations, through knowledge of the leadership development program called ELD (Enlisted Leadership Development) that is offered at the SEA Academy. Academy) that provides leadership capabilities not only to Navy personnel but also to members of the Army, Air Force, Special Forces, Coast Guard, and National Guard.
On behalf of the Argentine Navy, it was Chief Petty Officer Silvia Roxana González, First Officer Gabriela Alejandra Rosales and Leopoldo Miguel Ángel Rivas who, with the support of Chief Petty Officer Juan Quintana Serrano, participated in the chief petty officer's class duties. Junior officers (enlisted seniors) of the various specialties of the US Navy.
"These activities were of great importance because they allowed us to obtain knowledge within the framework of international military cooperation and improve the decision-making process in all areas of the Navy"said Petty Officer Gonzalez.
The beginning of the performances was undertaken by the Director of the Academy, Commander-in-Chief David Martinez, who was accompanied by the Director of the Course, Senior Officer Karl Gerhardt. The Director of the Academy described the organization of the Academy, the thematic units of the leadership programme, and the experiences and goals to be achieved for the purpose of exchange.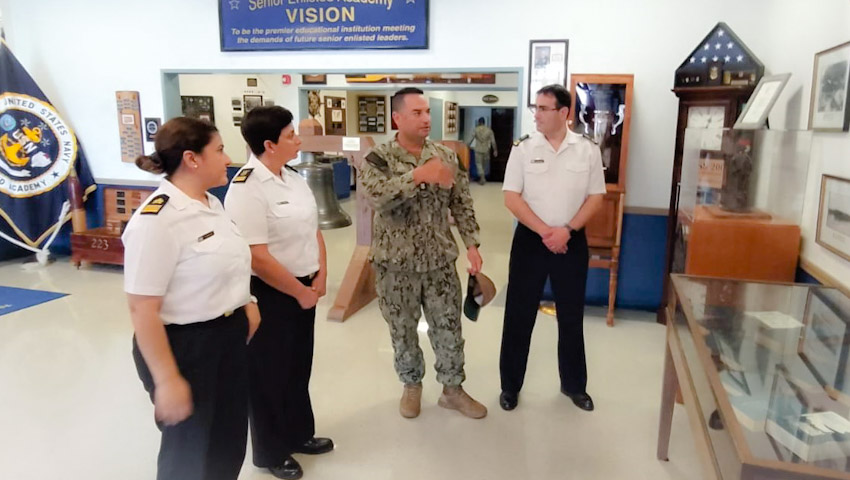 After the exchange was completed, Chief Petty Officer Silvia Gonzalez brought it up "It is very important to continue to strengthen the relationship with Newport Naval Academy and the US Navy Southern Command, as it will allow us to see how plans and doctrine are developed by their junior senior officers who come from a Navy that is a strong business around the world, and to pass that knowledge on to our NCOs." , enrich training capacities and thus promote camaraderie and personal and professional growth among the intervening forces.
During the farewell, the director of the Newport Naval Academy said: "As with all of our national partners, we look forward to maintaining our strong relationship as we share our best practices to improve our operations. On behalf of the Enlisted Personnel Leadership Team, it was a pleasure to host you."He also stated that he hopes for the future participation of non-commissioned officers in the Argentine Navy as cadets in the program taught by the Academy, which consists of six weeks, three of which are virtual and three in person.