With May saying goodbye to its first bars and facing the second part of the month, my favorite moment every Friday arrives: See what streaming platforms are up to this weekend. This time we have it 63 film and documentary series Which we can see from today until Sunday at Netflix, HBO, Amazon Prime VideoAnd the From the movieAnd the Disney +And the Movistar + s STARZ PLAY.
Halston
Ewan McGregor stars in the new Ryan Murphy Factory series. Biography on the story of the rise and fall of one of the most influential designers in American fashion.
The show premieres Friday on Netflix
"Lol: if you laugh, you lose."
Santiago Segura is responsible for being the master of ceremonies for the awarding of the local LOL franchise. A fairly simple contest where ten comedians and celebrities (you'll tell me how Vacuerizo fits here) face the challenge of resisting the urge to laugh at comic auditions and sketches.
Premiere Friday on Amazon Prime Video | reconsidering
'The woman at the window'
Joe Wright directs Amy Adams in a thriller about an anti-building psychologist whose life is turned upside down when her neighbor vanishes. The cast comprises Julianne Moore, Gary Oldman, Anthony Mackie, Fred Hechinger, Wyatt Russell, Brian Terry Henry and Jennifer Jason Lee.
The show premieres Friday on Netflix
Night Kings
Javier Gutiérrez and Miki Esparbé lead the radio duel for the new Movistar + series. A wild comedy whose story begins when the king of sports journalism sees his dominance threatened with his right hand once.
The premiere on Friday at Movistar + | reconsidering
'Run the world'
A comedy about a group of African American friends who try to manage life's ups and downs and maintain balance as professional women, their marriages or individual relationships, and their friendship. The series was created by Leigh Davenport.
The premiere is on Sunday on Starzplay
'Shiva Baby'
Emma Seligman She directs her for the first time with a comedy movie starring a young woman who witnesses two very different faces collide when she attends Shiva (a Jewish funeral).
The premiere is on Friday at Filmin
Underground Railroad
Barry Jenkins presents what is, according to first reviews, one of the premieres of this month. A series based on the book of the same name that presents an alternate history in which America's iconic subway is a complete railroad network.
The premiere on Friday is on Amazon Prime Video
All firsts
Netflix
From the movie
HBO Spain (every Friday)
Amazon Prime Video
"After the wedding" (Saturday)
"Lol: if you laugh, you lose." (Friday)
"Midsummer" (Saturday)
Underground railways (viernes)
Movistar +
"Welcome to Chechnya" (Sunday)
"Creativity Stories" (Saturday)
"What Really Matters" (Friday)
Trans children. I'll never forget tonight '(Friday)
Pinocchio (Friday)
"Kings of the Night" (Friday)
Disney + (every Friday)
STARZ PLAY
"Run the World" (Domingo)
Espinof recommends …
'midsummer'
I admit that the fact that "My Legacy" did not end my enthusiasm made me close to Ari Aster's next movie with some skepticism. But those initial obsessions vanished within a few minutes with a daytime horror movie full of beauty, unforgettable footage, and the well-deserved Florence Pugh Queen of May.
Saturday at Amazon Cash | Recommended by Albertini
Night Kings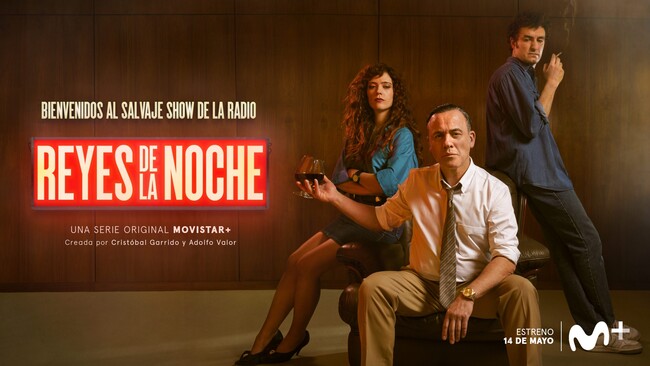 No one should expect this season's sitcom. Broadcasting the tragedies of golden days to radio, the new Movistar original series does so in thriller format with hints of black humor and hardly any easy jokes. Impressive staff and top notch place where these journalists act like gangsters. But remember one thing: Reality is always stranger than fiction.
Friday at Movistar + | Kiko Vega liked this
And more in the Espinof file
And you already know that every week you have an appointment with our newsletter. This time it's Mikel Which takes us into a world of current and old recommendations to see this weekend.